Automatic pool covers are released by a flip of a switch which makes it easy and convenient for the pool owner. They provide the best protection for keeping children and pets safe around the pool.
They are the most expensive option but in the long run, it saves you a lot of money. Automatic pool covers prevent heat loss which means your heating bill will not be through the roof. It also keeps debris out of the pool so you will not have to run your filtration system as often and reduces the number of chemicals needed to keep your pool clean.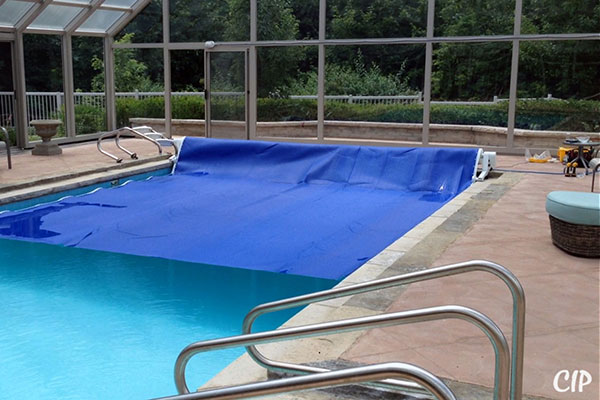 Additionally, it reduces water evaporation, so there is no need to keep refilling your pool and increasing your water bill.
There are different options for how to hide your automatic pool cover and what types of tracks you use for the cover. A low-profile aluminum lid can be mounted on your pool deck that hides the cover inside of it.
Another option is a flat lid, which is similar to the aluminum lid except it is level with the pool deck. The flush deck lid is installed when the pool is built and goes around your whole pool. Lastly, there are stone and concrete lids. These are the most discrete lids designed to look like your pool deck and are nearly invisible.
Automatic pool covers are mostly used for rectangular pools but it is possible to use it for shaped pools. It is easiest to install an automatic pool cover when a shaped pool is being built.